Our Story.... Cassarino ~ A Name you can trust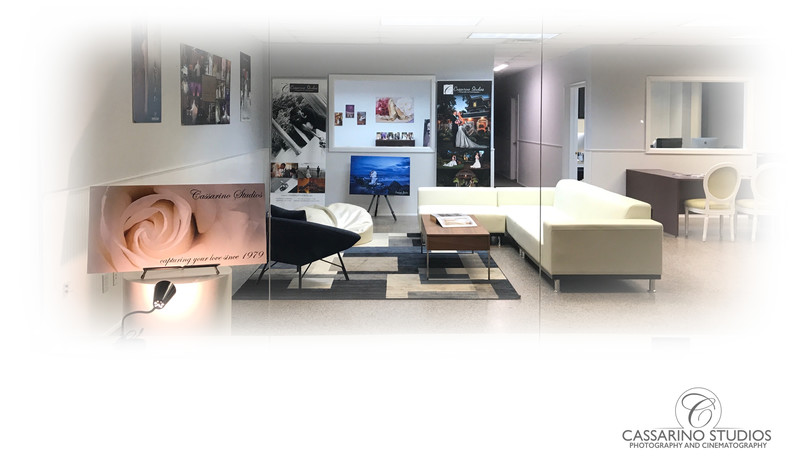 Cassarino Studios is about LOVE ~ Your love and our love of preserving "your" love!
The All New Ultra Modern Cassarino Studios Showroom Located At 431 Willis Ave, in Williston Park, NY ~ Please Arrange An Appointment To Visit Cassarino Studios ~ NY's # 1 Choice For Wedding Photography Since 1979 ~ At Cassarino Studios, we follow the philosophy of our founder Joseph V. Cassarino, president emeritus. We follow the standards and principles he instilled almost forty years ago that helped Cassarino Studios become the most favored wedding photography studio in America. Cassarino Studios has serviced and satisfied over 50,000 brides and grooms since inception, making it the preeminent, most popular and most respected name in wedding photography. We are more than merely photographers-we are storytellers, exceptional documentarists, and highly skilled graphic designers!
Following the principles of our founder, the highly trained and experienced photographers and cinematographers of Cassarino Studios put their heart, soul, energy, and love into each wedding! The bride and groom, bridal party, family members and guests become the most important people of the day, period!
cassarino Studios
NY's #1 choice for wedding photography since 1979
The management team at Cassarino Studios hires only the most passionate artists. The photographers and videographers at Cassarino Studios are dedicated, hard working, excited, and eager to please. Perfection is our goal. Satisfaction is our reward. Reputation is our difference. It is no wonder Cassarino Studios has become the most in demand wedding photography studio, proudly servicing the New York, Tri-State region for over 39 years. The artistic work produced by Cassarino Studios and at modest prices, is rich in elegance and style. It is also fun, creative, exciting and full of energy. At Cassarino Studios we mix highly skilled experienced photographers with young, talented, innovative, creative thinkers that produce unparalled photographic mastery. Hence, how the name Cassarino Studios has become the most trusted and respected name in wedding photography and how the legacy was born. Consistency, organization, dedication to excellence and passion is what set Cassarino Studios apart.
Cassarino Studios' pricing is budget friendly and affordable. digital Photography Coverage for up to eight hours begins at $1,695 per package. we offer digital Photography coverage and bridal album packages to accommodate all price points. we are happy to customize packages to suit your specific requirements. Please visit our price page for details and specials. By appointment
Rome, Barcelona, St. Thomas, China, Ireland, India, Brazil, Dominican Republic, Greece, Dubai, Hawaii, Israel..... No matter the location, or the denomination, Cassarino Studios has the knowledge, experience, dedication, enthusiasm, skill, and energy to accommodate the most discerning clientele anywhere in the world.
Tuesday - Thursday 11am - 8pm
Saturday 11am - 4pm
44 JERICHO TURNPIKE MINEOLA, NY 11501 ~ 222 EAST 31st ST NY 10016
BY APPOINTMENT
516-877-2700
----------------------------------------------------------------------------------------------
A BRIEF HISTORY OF CASSARINO STUDIOS
Joseph Cassarino, the founder, and George Petty, who became partner ten years later, continue to consult pro bono. Their experience, wisdom, and passion is unequaled in the wedding photography field. Joe and George were legends in the photo industry and they built the most respected and trusted name in the history of wedding photography. Many of the same photographers Joseph Cassarino trained over thirty years ago, when those photographers were only in their teens, are still employed at Cassarino Studios. Cassarino Studios also pioneered the concept of including images (negatives at that time) with each package in the late 1980s. Joseph was of the belief clients should posess the images, and thus Cassarino Studios was the first studio ever to include the images. Eventually, all photo studios in America followed Cassarino Studios' policy and included the images with each package.
Cassarino Studios also partnered with Joseph Benedetto of Marina Del Rey fame in the 1990's and owned a very successful photo studio inside the impeccable Marina Del Rey Caterer that satisfactorily serviced hundreds of brides each year. The standards were high and the clientele demanding. However, Cassarino Studios earned their reputation by pleasing each and every bride and groom. Jo Jo as many called Joseph Benedetto, along with the impeccable banquet managers, Joe Savino and Joe (Joey) Orzo, along with deceased owner, Sal Randazzo, of Marina Del Ray, forever remain in the heart and soul of Cassarino Studios. Marina Del Rey proudly recommends Cassarino Studios to their elite clientele and Cassarino Studios is in tremendous gratitude for the respect, friendship, and bond we maintain with Jo Jo, Joe and Joey.
Nick Leone, the deceased, former owner of Jericho Terrace is another icon who remains in the heart and soul of Cassarino Studios. The Jericho Terrace Caterer was the first to recommend Cassarino Studios in the late 1980's after Nick Leone heard about Cassarino's tremendous reputation for artistry. That same year, Anthony Scotto of Scotto Hospitality Group and Scotto Brothers gave Cassarino Studios the biggest boost ever by adding Cassarino Studios to his honored vendor list of wedding professionals in all of his newly refurbished, landmark catering establishments. Anthony Scotto is alive and young, and still operating several of the most opulent catering facilities on Long Island, including the most sought after North Shore Long Island, steak houses the world has "ever seen"!
RARE650 http://www.rare650.com/
Insignia Prime Steak http://www.insigniasteakhouse.com
Blackstone Steakhouse /http://blackstonesteakhouse.com/
Cassarino Studios can honestly claim, we never, ever would have become the success we have become, without the kindness of our very dear friends in the catering and hospitality industry. Friendships were generated, respect commanded and love formed. Even in death, our love for our friends continues, being they live infinitely in our hearts and through the thousands of photographs we have taken in their exquisite facilities, and where their energy is transferred via the photographs.
Another person, energy and force of nature who lives in Cassarino Studios' heart, is the retired, Ric Mango of Ric Mango's Orchestra. Rick, formerly of the band Jay and The Americans, created the most amazing wedding band on Long Island during the 80's and 90's. Whenever there was an opulent, high end wedding on Long Island, you could rest assured, Ric Mango Orchestra's was playing. Cassarino Studios paired extremely well on these high end weddings, and both Cassarino Studios and Ric Mango's Orchestra loved nothing more than pleasing our most distinguished guests.
Cassarino Studios has been voted Best Wedding Photographer On Long Island and Top Wedding Photographer On Long Island. Cassarino Studios has also photographed hundred upon hundreds of weddings at all premier catering venues, including, Jericho Terrace, Westbury Manor, Russo's On The Bay, Harbor Club at Prime, Chateau Briand Caterers, The Carlton, Fox Hollow Caterer, Bourne Mansion, Marina Del Rey, Oheka Castle, Riviera At Massapequa, Watermill Caterers, Aqua Azul, Leonard's Palazzo, Villa Lombardi's, Sand Castle Caterers, The Piermont, The Vineyards At Aquebogue, Flowerfields, Glen Cove Mansion, NYIT de Seversky Mansion, Larkfield Manor, Giorgio's Baiting Hollow, Chateau La Mer, Verdi's, The Inn At New Hyde Park, Garden City Hotel and many more.